Companies and their employees must be aware of social problems and participate in activities to resolve them. Besides a matter of corporate social responsibility, we regard such participation as a precious opportunity for each and every employee to acquire more compassion for others.
Systems and Performances to support the activities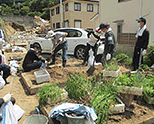 We have prepared a system and environment that fully assists employees in proactively carrying out social contribution work.
Local Contribution Work by Employees (Japanese only : link to website)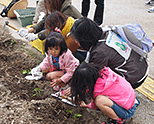 We are promoting locally specific social contribution work by our branches with the aim of implementing at least one activity at each branch annually. Those activities are proving effective at making our bond with the local population stronger.

An organization for Social Contribution, constituted by MS&AD employees. A voluntary contribution from employee's paychecks is contributed by its members and used to find NPO sponsorship and Volunteer activities.
Cultural Promotion
Road Safety and Promotion of Elderly Welfare
Mitsui Sumitomo Insurance Welfare Foundation (link to website)
Sports Promotion
Sports Promotion of Mitsui Sumitomo Insurance (Japanese only : link to website)