Green Space around Surugadai Building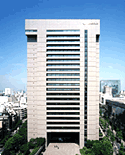 Walk southwards down Hongo Dori from JR Ochanomizu Station to reach the building, standing tall in the student town of Kanda Surugadai in Chiyoda, Tokyo, an area where old samurai residences once lined the streets in Edo period. Green space can be found not just around the ground level but at the lower rooftop where forest, park and garden sparks off its green.
Rich in green, this is "Surugadi Building Green Space".
Aims of Surugadai Building Green Space Activities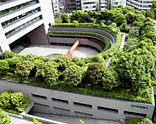 For Surugadai Building to merge with the surrounding community and prosper together, we promote:
activities that energizes the area with the community
activities that consider coexistence with the ecosystem
Sustainable green space maintenance
as the basic principles. It is in our wish to enrich the local environment together with the community, connecting through "green", a precious find in the metropolitan area.
Profile
Provides detailed information on rooftop greening at the Surugadai Green Space and the heat island mitigation.
Places of interest
The rich greenery attracts rare birds despite an urban surrounding and has become a haven of relaxation for employees and neighbors. We invite you to take a look, as there is plenty to see, starting with a rich variety of seasonal plants.
Guidance of visit
Please visit freely within the following time.
Opening time :

March-October 10:00~17:00
November-February 10:00~16:00


*

Closed on weekends and holidays.