As part of our "Sustainability", we carry out the "Tropical Rainforest Recovery Project" in Republic of Indonesia to prevent and decrease natural disaster – a mission of Domestic Non-life Insurance activities, and to help improve the global environmental problem of rainforest destruction.
Outline of "Tropical Rainforest Recovery Project"
Project name
Yogyakarta Special Province Wildlife Reserve Restoration and Recovery
Objectives

Restoration and recovery of degraded wildlife reserve
Development of rainforest using Javanese native tree species
Contribution to long-term local economy via agricultural capacity building and fruit supply
Enlightenment of the importance of forest throuh conducting environmental education

As a result of the above actions, we aim to regenerate the forest and build the sustainable community

Number of planted trees
Approx. 300,000 of native species, useful trees and fruit trees within Java
Location
350 hectares of "Paliyan Wildlife Reserve" in Yogyakarta Special Province, Java
Features of Phase Ⅰ:
from April 2005 to March 2011

The first collaboration between Ministry of Environment and Forestry of Indonesia and Japanese private enterprise to conduct reforestation

Bolstering local economy using "agroforestry method" (*1), replanting mainly native species, restoring both animal and plant species in natural way and planting fruit trees and agricultural goods
Survey on the restoration of forest and ecosystem by Gajah Mada University in collaboration with us
Environmental education to elementary school students conducted in collaboration with Gajah Mada University for the purpose of preventing them from continual illegal cutting
MSIG Indonesia's donating educational tools such as projectors, musical instruments and fixtures to several elementary schools in Paliyan and Saptosari, Yogyakart
Contributing to global warming prevention by absorbing 70,000 tons of CO2 over 20 years from 2005(*2)

*1

Agroforestry method: method combining agricultural crop growth and forestation to gain short-term benefit while waiting for the trees to grow

*2

absorbed amount actually measured for 14 years since 2005FY to 2019FY was approx. 31,700 tons of CO2

Features of Phase Ⅱ:
from April 2011 to March 2016

Promotion of the creation of a mechanism to permanently preserve the recovered wildlife sanctuary

Conducting biodiversity monitoring surveys in collaboration with Gajah Mada University using birds and insects as indicator to investigate the ecosystem recovery situation of the forest back into its original condition
Providing local residents with self-support programs through agricultural technology guidance
Conducting environmental educational programs for the teachers working in local elementary schools to increase the knowledge and awareness of observing the forest and deliver all the knowledge to their students in daily learning activity
Implementing conference with the stakeholder such as local farmers and local administrative organization concerning the utilization and preservation of the protected forest

Features of Phase Ⅲ:
from April 2016 To March 2021

Additional activities besides the preservation of Paliyan wildlife sanctuary and the environmental education

Distributing nursery-tree to local residents and providing training in planting and tending method to contribute to the enhancement of local residents' income and to prevent them from continual illegal cutting
Operation and maintenance of the Seminar house which is the activity base in this project
Management, assistance and monitoring of the FORUM (which is a name of an organization for BKSDA to administer a protected forest)
Environmental education to elementary school teachers conducted in collaboration with Gajah Mada University
KPI of Indonesia Reforestation Project
Activities
KPI
Achievements
Reforestation
Planting trees in 350 hectares of wasteland
number of planted trees
400,000 trees in total
(100,000 replanting included)
estimation of absorbed CO2
Approx.31,700 tons of CO2 in 14years since 2005FY to 2019FY
Contribution to the local economy
total number of local employees
15,000 people employed for planting
Recovery of biodiversity
Biodiversity monitoring on birds and insects as indicators
number of species

birds : 21 species⇒44 species
butterflies : 4 species⇒13 species
ants : 6 species⇒8 species

diversity index

increase in Shannon-Wiener's H':

birds : 2.39⇒4.01
butterflies : 1.93⇒2.64
ants : 0.976⇒2.34

similarity of birds composition against model forest (Wanagama Educational Forest)
increased from 17% to 58% in Bray-Curtis index
Environmental education
Environmental education for primary school students
number of participants
200 students (since 2009 to 2011)
number of schools
13 schools (since 2009 to 2011)
Improvement of environmental education ability for primary school teachers
number of trainees
165 teachers (since 2012 to 2018)
number of schools
19 schools (since 2012 to 2018)
Environmental education for teachers and students of elementary and junior highschool (2019FY)
number of participants
teachers 54
students 223
number of schools
2
Exchange program between participants of reforestation project tour from Japan and local schools
number of participants from Japan
136 people (since 2014FY to 2019FY)
Livelihood improvement
Instruction of agricultural techniques (for growing red peppers, marketing ability, etc.)
number of farmers in the agricultural cooperative association
39 people (2018FY)
Establishment of the agricultural cooperation and capacity building
sales of the agricultural cooperative association
19,974,000Rp (since 2014FY to 2016FY)
110,391,974Rp (since 2017FY to 2018FY)
Plantation program in cooperation with local residents
number of distributed seedlings
43,737 / year (2017FY)
49,814 / year (2018FY)
44,725 / year(2019FY)
number of planted trees / number of trained local households of planting methods
43,737 trees / 80groups
(during 2017FY)
49,814 trees / 106 households
(during 2018FY)
44,725 trees / 112 households
(during 2019FY)
Indonesia Reforestation Project Video (subtitled in English)
Reforestation Project PhaseⅡ- Completion ceremony
On October 3, 2016, reforestation project phase Ⅱ-completion ceremony was held at the office building of special province of Yogjakarta.
This ceremony was attended by many key persons including;
-Sri Sultan Hamengku Buwono Ⅹ, Governor of special province of Yogjakarta,
-Mr.Firdaus, Member of the Board of Commissioners Indonesia Financial Services Authority and Chief Executive Supervisor of NBFI,
-A member from Embassy of Japan in Indonesia,
-Representative of local farmers in the Paliyan area and so on.
The number of participants was more than 100 in this ceremony. Mr.Firdaus, Member of the Board Commissioners FSA and Sri Sultan Hamengku Buwono Ⅹ, Governor, complimented MSI Co., Ltd. and PT Asuransi MSIG Indonesia on this successful project. Mr.Kuroda, Director, Senior Executive Officer of MSI Co., Ltd., received a Letter of Appreciation from the governor.
This project is a representative CSR activity that MSI Co., Ltd. has been continuing in cooperation with PT Asuransi MSIG Indonesia, an Indonesian local company.
It is highly reputed as a successful example of CSR activity that is performed by Japanese Corporation in Indonesia due to the steady contribution to the local community through not only planting trees but also providing agricultural technology guidances for local residents, conducting environmental education for surrounding elementary schools and PT Asuransi MSIG Indonesia's making donations continuously.
This topic was taken up by many forms of local media. In consequence that brought good reputation to both MSI Co., Ltd. and PT Asuransi MSIG Indonesia.
Progress of Reforestation project in 2019FY
Paliyan Wildlife Reserve Tree Plantation Location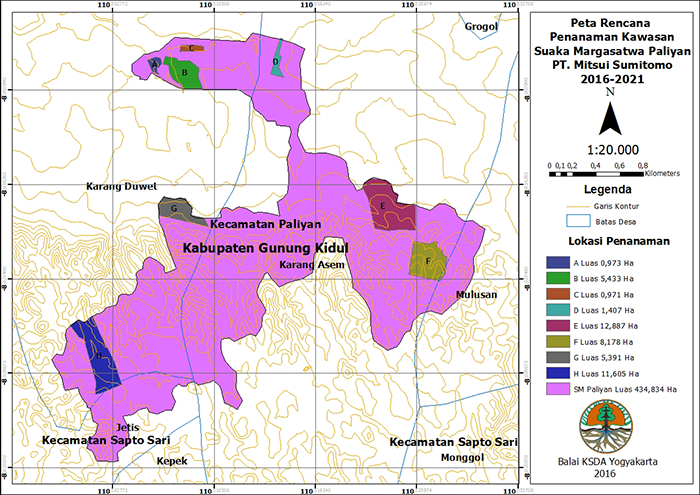 Activities Report
Message to Mitsui Sumitomo Insurance Co., Ltd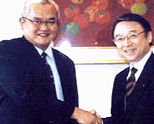 Sir Wisnu Prastowo (Head of Forestry Department Indonesia Embassy)
This rainforest recovery project is of significant importance to Indonesia. Previously, Java had abundant protected forests that were of high quality. However, much of it was lost to illegal harvesting. Indonesian government prioritizes forestry restoration as part of national policy, making this project a very promising one.
With plantation of not just native species but of fruit trees being put in action, local residents also expect a boost in local economy.
We thank everyone at Mitsui Sumitomo Insurance Co., Ltd for supporting us.