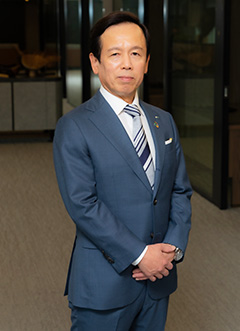 Thank you for your continued support of Mitsui Sumitomo Insurance Co., Ltd.
We would like to express our heartfelt sympathies for all people affected by the Northern Osaka earthquake in June and the torrential rains in western Japan in July 2018.
We launched the Large-Scale Damage Inspection Management System to support rapid insurance claim payments following large-scale natural disasters.
We are working as one to respond to the needs of customers impacted by the recent disasters by conducting speedy and accurate insurance claim payments, contributing to the rapid restoration of affected areas, and contributing towards providing safety and peace of mind for affected customers.
Vision 2021, our medium-term management plan started in Fiscal 2018, works to realize our mission of being a world-leading insurance and financial services group by achieving various numerical goals related to business scale, capital efficiency, and financial stability based on benchmarks set to the standards of major global companies. Through our initiatives, we aim to become a company that embodies the following.
1.

Provide value to society through business activities and achieve sustainable growth.

2.

Apply advanced digital technologies and cutting-edge knowledge for product development, sales/marketing, and claim services, etc. to maintain a competitive advantage.

3.

Become widely known as the top insurance and financial services group in Asia, secure a substantial position in other major markets, and be recognized as a global brand.

4.

Foster a motivating work environment that enables all employees to demonstrate professionalism.
As we aim to be a world-leading insurance and financial services group, there is no change in our commitment to quality. Our ability to tie quality to trust, and trust to growth will represent our competitive edge on the international stage.
We will continue to earn the trust of customers through our insurance business and be a company that supports the growth and development of our customers and society.
We thank you for your continued support and patronage.
Mitsui Sumitomo Insurance Company, Limited
Noriyuki Hara, President, Chief Executive Officer