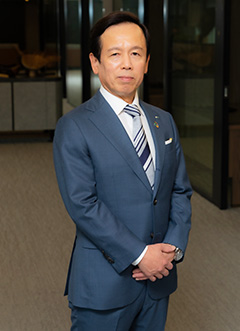 Thank you for your continuing support of Mitsui Sumitomo Insurance Co., Ltd.
We faced a number of major natural disasters in 2018. Again in 2019, disasters including major earthquakes have occurred one after another. We would like to extend our heartfelt sympathy to all the people affected by these disasters. We have settled claims quickly and accurately by mobilizing the entire company to respond to customers and by utilizing advanced technologies such as drones and video chat to assess damages. We wish for the earliest possible recovery of disaster affected areas and will work to further improve our organization to continuously contribute to the realization of a safe and secure life for our customers.
Our mission is to contribute to the development of a vibrant society and help secure a sound future for the planet by enabling safety and peace of mind. Based on this mission we created Vision 2021, the current medium-term management plan. The goal of the plan is to evolve together with a sustainable society based on Creating Shared Value (CSV) by considering the Sustainable Development Goals (SDGs) adopted by the United Nations.
Our efforts have been steadily carried forward. One example is GK Automobile Insurance (with dashcam), a new insurance policy released in January 2019. This insurance helps prevent tailgating and accidents caused by elderly drivers, two important social concerns recently. This insurance helps us meet the Goal 11 target, Sustainable cities and communities, one of the SDGs. Since its release this insurance has been favorably evaluated by customers.
This is the second year of the Vision 2021 plan. Now we will step up our activities to meet the goal of the Vision, "to create resilient systems that can swiftly respond to changes in environment," by concentrating on the following important matters:
Improving the customer experience through utilization of digital technologies and improving productivity through digitalization of operating processes
Stabilizing our business by transforming the portfolio to include lines of insurance that meet ever-changing customer needs and the requirements of different areas
Realizing synergies by enhancing cooperation among the group companies
Improving operating quality and productivity by changing the work style and promoting Health and Productivity Management based on the concept of "diversity and inclusion."
As digital technologies have advanced in recent years, the pace of social change has accelerated. As a result, risks and insurance products are also changing. However, the insurance business always depends on a relationship of mutual trust with customers.
In order to act in the best interests of customers, we decided the customer-first policy for business operations. Based on this policy we will continue to work at becoming an insurance company trusted and chosen by customers by placing the highest priority on improving compliance and operating quality.
As a company engaged in the core business of the MS&AD Insurance Group, we will continue to work toward becoming a world-leading insurance and financial services group.
We thank you for your continuing support and patronage.
Mitsui Sumitomo Insurance Company, Limited
Noriyuki Hara, President, Chief Executive Officer