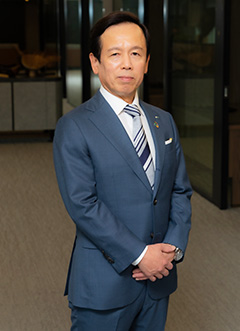 To our valued customers and stakeholders, on behalf of Mitsui Sumitomo Insurance, I wish to convey our deepest thanks for your ongoing work with or support to our company.
We all know what a challenging past year it has been and I would like to offer my heartfelt sympathies to all those who have been affected by COVID-19.
FY2021 is the final year of our medium-term management plan "Vision 2021, Stage 2." In addition to achieving our goals of "becoming a world-leading insurance and financial services group" and "creating a resilient structure that can swiftly respond to changes in environment," we will be engaging in new initiatives that look ahead to our next medium-term management plan beginning in FY2022.
"Sustainable Development Goals (SDGs)" will be our focus. As a non-life insurance company, taking action to combat climate change will be our highest priority. We will particularly concentrate on the two themes detailed below in dealing with climate change risks.
Theme one - contribute to society through climate change mitigation measures.
In April 2021, we launched the Climate Change Solutions Section in the Corporate Planning Department to promote climate change countermeasures in all of our business areas and departments. To achieve carbon neutrality, as promoted by our nation, we must first reduce our own CO2 footprint by reviewing our business practices and energy usage. Furthermore, we will support our society to achieve carbon neutrality by providing insurance coverage to initiatives and technologies which contribute to CO2 reduction while promoting ESG investments and finance. We will also take a major role in mitigating our corporate clients' exposure to natural catastrophes by providing products and services that contribute to preventing and recovering from natural disaster losses.
Theme two - further expand our insurance business.
As a non-life insurance company, it is our social responsibility to sustain our risk taking function, including mitigating natural disaster risks, and maintaining a strong capital base. We will therefore radically change our profit generating structure in order to improve productivity and continue exploring investments into growth areas such as overseas and digital businesses.
In addition to climate change, there are other social issues we need to address such as earthquakes, epidemics, revitalisation of rural communities, the declining birth rate and the aging population. Since FY2020, our goal is to "solve social issues by engaging in digital transformation (DX) and Creating Shared Value (CSV) guided by SDGs". The key to success in "CSV×DX" is innovation.
We will particularly accelerate the following three initiatives to realise innovation.
-Promoting diversity:

Create a work environment in which all employees can thrive regardless of gender or nationality.

-Revitalising HR:

Introduce a job-based employment system that increases employee engagement and create an agile organizational structure in which young top talent can assume positions of responsibility.

-Transforming culture:

Foster a corporate culture where employees are encouraged to think and act on their own and take initiative without fear of failure. Corporate bureaucracy will be reduced wherever possible to facilitate the unbounded generation of innovative ideas.
While the world is continuing to undergo major changes due to the Covid-19 pandemic, we are aiming to realise "CSV x DX" by working together as one team to generate innovation with a "desire to contribute to society" and "a spirit to create new value".
We are striving to "become a leading innovation company that solves future global risks and issues".
We look forward to and appreciate your continued support.
Mitsui Sumitomo Insurance Company, Limited
Shinichiro Funabiki, President, Chief Executive Officer