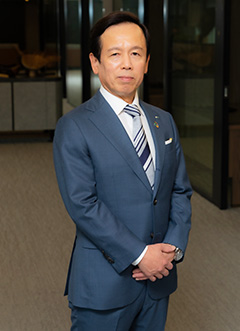 Dear valued customers and stakeholders,
I wish to express our deep appreciation for your continued trust and support for Mitsui Sumitomo Insurance.
Last fiscal year, in addition to the prolonged impact of COVID-19, we also experienced a series of natural disasters including earthquakes, typhoons and torrential rains. We would like to express our heartfelt sympathies to all those who have been affected. We are redoubling our efforts to offer support to customers in rebuilding their lives as quickly as possible, as is our duty and responsibility as a non-life insurance company.
It is also clear that the global environment is changing even more dramatically than anticipated, with increasingly serious climate change and geopolitical risks, more severe natural disasters, as well as plummeting stocks and bonds markets due to global inflation and financial instability. In a world of ever-increasing uncertainty, non-life insurance companies that deal with these risks like ourselves, endeavour to provide even more value in these times.
The Medium-Term Management Plan (2022–2025) that we adopted last fiscal year sets out our aspiration to become an innovation company that provides leadership in solving the global risks and issues for the future. To achieve this, we are promoting our Sustainability Transformation (SX) policy that focuses on delivering sustainability for both our company and society as a whole, with four main social issues that we are trying to address — Planetary Health, Innovative Technology, Resilience, and Social Inclusion.
For example, for Planetary Health, we have started offering products and services that contribute to the preservation and recovery of natural capital and biodiversity. In addition to benefits inherent to insurance itself, we will also continue to provide new value by creating and providing solutions that address risks both before and after compensation, to prevent loss and damage before they can occur, and provide support for prompt recovery after an incident has occurred.
Going forward, as a core company of MS&AD Insurance Group, we aim to become a world-leading insurance and financial group that pursues sustainable growth and increased corporate value, which involves growing together with society by developing and offering solutions for the issues that affect us all.
We look forward to your continued support as we walk the path toward a brighter future together.
Mitsui Sumitomo Insurance Company, Limited
Shinichiro Funabiki, President, Chief Executive Officer