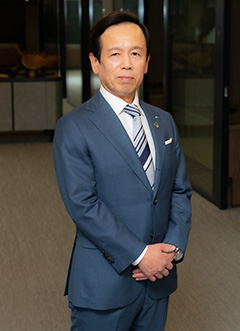 We are one of the core operating companies within the MS&AD Insurance Group. We define our mission as contributing to the development of a vibrant society and helping secure a sound future for the earth by bringing security and safety through the global insurance and financial services business.
Within each area, we are successfully advancing reorganization by function, one of the core themes of our medium-term management plan, "Next Challenge 2017". In the claims services area, we are proceeding with system development in collaboration with Aioi Nissay Dowa Insurance as we aim to provide the industry's top tier claims services.
We also are developing strong synergy with MS Amlin, which joined the Group in February 2016. We will apply the cumulative knowledge and experience of MS Amlin towards meeting the needs of even more customers.
Fiscal 2017 represents the final year of Next Challenge 2017. We will achieve solid growth by recording results that outperform plans.
We believe our raison d'être is to provide security and safety, and to contribute to society through our insurance business. As risk professionals, we will continue our efforts to resolve various social issues by working to reduce traffic accidents, improving preparations for large-scale natural disasters, and promoting the dissemination of renewable energy.
With the spread of ICT (information communication technology) and other new technologies, social infrastructure and people's lifestyles are changing at a pace unlike anything we have ever seen before and these technologies are expected to have a great impact on society. We will utilize advanced technologies such as AI (artificial intelligence), big data, and block chains to offer the products and services that are in line with our changing society.
We will continue to fulfill our raison d'être with integrity and a sense of speed in order to further gain the trust of our customers and support social development.
We thank you for your continued support and patronage.
Mitsui Sumitomo Insurance Company, Limited
Noriyuki Hara, President, Chief Executive Officer