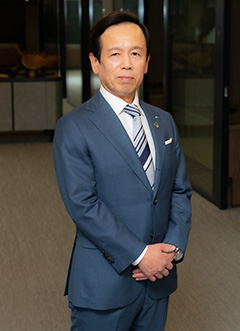 Effective April 1, 2016, I have assumed the position of President of Mitsui Sumitomo Insurance.
We take this opportunity to thank our stakeholders for the consistent support they have shown Mitsui Sumitomo Insurance.
We are one of the core operating companies within the MS&AD Insurance Group. We define our mission as contributing to the development of a vibrant society and helping secure a sound future for the earth by bringing safety and security through the global insurance and financial services business. We are working towards the realization of this mission through "Next Challenge 2017", our four-year medium-term management plan.
We positioned the second two years of our medium-term management plan, the two years beginning from FY2016, as a period for achieving significant growth. During this period, we will advance the development of products and services that respond to changes in industrial structures, including automated driving and regenerative medicine, and incorporate the use of ICT to improve customer services and convenience.
The February 2016 acquisition of the UK insurance holding company Amlin greatly expands our international business. We will apply Amlin's knowledge and experience towards further elevating our business to become an insurance company that is trusted and chosen by customers in Japan and around the world.
As a member of the MS&AD Insurance Group, Mitsui Sumitomo Insurance will push forward in creating a world-leading insurance and financial services group. At the same time, we intend to do everything possible to contribute to society as an insurance company supporting family happiness and economic growth.
I ask for your continued support and patronage.
Mitsui Sumitomo Insurance Company, Limited
Noriyuki Hara, President, Chief Executive Officer