As part of our CSR activities, we carry out the "Tropical Rainforest Recovery Project" in Republic of Indonesia to prevent and decrease natural disaster – a mission of Domestic Non-life Insurance activities, and to help improve the global environmental problem of rainforest destruction.
Outline of "Tropical Rainforest Recovery Project"
Project name
Yogyakarta Special Province Wildlife Reserve Restoration and Recovery
Objectives

Restoration and recovery of degraded wildlife reserve
Development of rainforest using Javanese native tree species
Contribution to long-term local economy via fruit supply

Number of planted trees
Approx. 260,000 of native species, useful trees and fruit trees within Java.
Location
300 hectares of "Paliyan Wildlife Reserve" in Yogyakarta Special Province, Java.
Features

The first collaboration between Dept of Forestry of Indonesia and Japanese private enterprise to conduct reforestation
Bolster local economy using "agroforestry method" (*), replanting mainly native species, restoring both animal and plant species in natural way and planting fruit trees and agricultural goods
Contribute to global warming prevention by absorbing 70,000 tons of CO2 in the next 20 years.

Period
April 2005 - March 2011 (6 years)
*

Agroforestry method: method combining agricultural crop growth and forestation to gain short-term benefit while waiting for the trees to grow.
Message to Mitsui Sumitomo Insurance Co., Ltd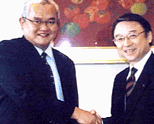 Sir Wisnu Prastowo (Head of Forestry Department Indonesia Embassy)
This rainforest recovery project is of significant importance to Indonesia. Previously, Java had abundant protected forests that were of high quality. However, much of it was lost to illegal harvesting. Indonesian government prioritizes forestry restoration as part of national policy, making this project a very promising one.
With plantation of not just native species but of fruit trees being put in action, local residents also expect a boost in local economy.
We thank everyone at Mitsui Sumitomo Insurance Co., Ltd for supporting us.
Paliyan Wildlife Reserve Tree Plantation Location
Activities Report